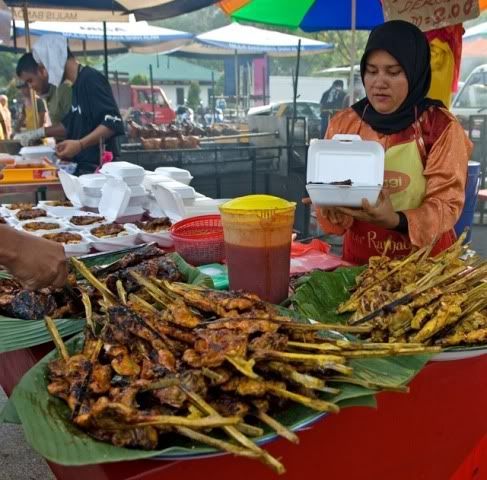 Now the Muslim are on the fasting mode and as an Islamic country tourist should see lest people eating outside at day time. So it is not the right time to visit Malaysia? Then the answer is this the very best time. Fasting month only occur only once a year and for Malaysia it is a very special month. The difference is it has tremendous amount of food bazaar like no other month. Just go to any state in Malaysia the situation is the same.
Come here and ask for Bazaar Ramadan and people will point you more than one spot to go. In Melaka, every main Road, Town and Resedential will have this kind of bazaar. Just go out from the Melaka Sentral Terminal you will find a Ramadan Bazaar nearby.You will lost in the sea of food at the bazaar. To many to choose from traditional dishes, grilled, barbecued, yummy desert and wonderfully creative mix of thirst quencher. Only in Malaysia you will find many sorts of drinks and most of it you can find it easily in the fasting month.
The extensive used of liquid brown sugar in some desert and drinks in not actually a sugar; it is actually a coconut tree syrup extract. The sweet aroma and the thick sweet liquid combined with ice, you will drink it with an eye closed to enjoy the taste. Well in this Ramadan, forget the Hotel buffet and go the Street!
This is just few drinks at the Bazaa Ramadan..there are more of it.